Neil Gaiman『The Graveyard Book』(Harper Collins)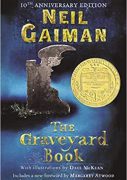 Neil Gaiman
『The Graveyard Book』
(Harper Collins)
Neil Gaiman is an annoyingly talented writer.He writes for children and adults in a variety of genres from novels to picture books and graphic novels. Gaiman usually writes dark, fantastic stories that borrow heavily from myths and fairy tales. His most famous books include Coraline, Stardust, American Gods and the graphic novel, Sandman. Many of his books have been turned into films or TV series.
I'm a huge fan and have read most of the things he has written but The Graveyard Book is my favorite of his books 'for children'. You might not believe it's for children as it starts with the murder of a young child's family. The child escapes to a nearby graveyard where he is found by the ghosts who 'live' there and is given the name Nobody Owens, or 'Bod' for short. The novel tells the story of Bod as he grows up in the graveyard and the adventures he has. There are witches, vampires, werewolves, ghouls and, of course, ghosts so if you want a good book for Halloween, this is it!
The Graveyard Book has all the ingredients of a great book: a great start and finish, memorable, interesting characters, comedy, tragedy, suspense – it really has everything.
(Primary Division BLES)